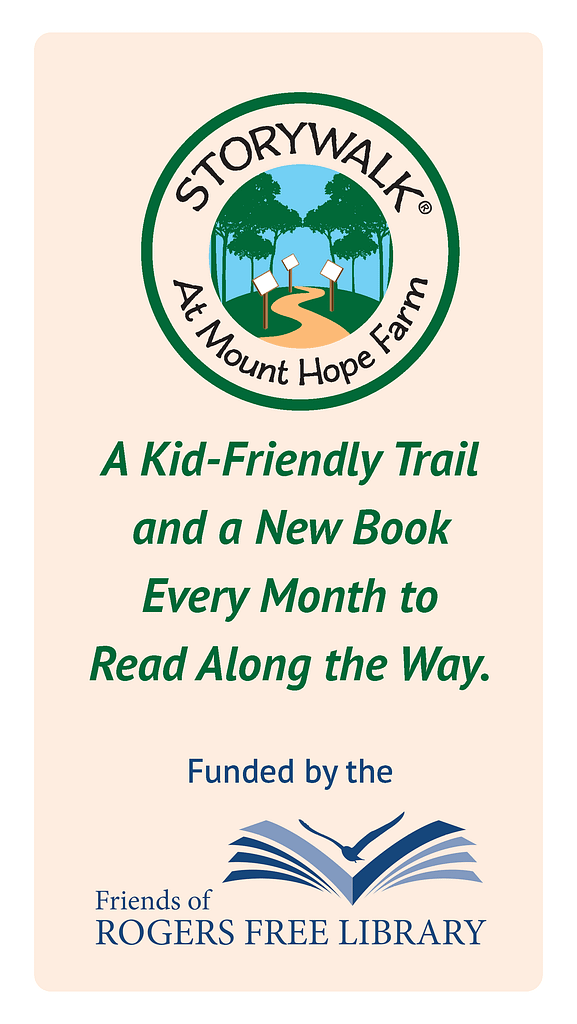 Enjoy Reading and the Outdoors!
Take a short walk and ready a children's book at the permanent StoryWalk® installation at Mount Hope Farm, courtesy of the Friends of Rogers Free Library. The StoryWalk® is on the North Pasture, located on the left-hand side as you drive into the farm.
The StoryWalk® at Mount Hope Farm is open daily from 8 am to 6 pm, except holidays.
Current Book Being Featured
Old Rock (is not boring) by Deb Pilutti
Credit for all photos: Carolyn DiFrancesco, First Fotos
Facts from Deb Pilutti's Old Rock (is not boring), March's StoryWalk® title: http://debpilutti.com/OR_facts.html
Discussion Questions:
Why does everyone think that being a rock is boring?
What has rock done that is definitely not boring?
How old is rock?
What other things would rock have seen in the timeline given for him?
What are some things that rock did that show his character traits?
Which of the characters would you want to be friends with? Why?
How are the other characters different than Old Rock?
Source: Unleashing Readers
---
Future Books to be Featured
---