Our meeting rooms are intended to further the library's mission of facilitating the free exchange of diverse ideas and information. The rooms, therefore, are generally reserved for library activities, including programs presented by library staff, by the Friends of Rogers Free Library, and/or other groups affiliated with the library. Whenever the meeting rooms are not being used for library activities, however, they may be available to the public for educational, cultural, non-profit, civic, or governmental programs or meetings.
How to Reserve a Room
Submit a reservation request by using our online booking websites (click "Call Dibs/Reserve Now" below) or by contacting the library at 401-253-6948.
Read our meeting room policy before booking rooms.
Images and descriptions of each room are listed below.
Email and Phone number required to book online
Study rooms can be reserved for a maximum of 2 hours per day
Groups can have up to 5 pending reservations at a time
Rooms may be reserved up to 2 weeks in advance
Cancellations can be done through your confirmation email or by calling the library at 401-253-6948. There will be a 15 minute grace period before staff cancels your reservation. Not showing up to active reservations can lead to a suspension of privileges.
Spaces account required to book online. Group members are encouraged to create or join the organization that is associated with their reservations before submitting a reservation
Contact Monica at mgonzalez@rogersfreelibrary.org if there are any questions about your account.
All meetings must be open to the public, at no charge to the attendees
Community room bookings must be approved by administrative staff, and should be submitted more than 48 hours before the time of the meeting
Groups may book a room up to 60 days in advance
Groups are responsible for set up/take down of all tables and chairs used for the meeting. Library staff should not be expected to assist or to provide ant materials
The Herreshoff Community room has a kitchenette that may be used for the preparation of light refreshments. Groups are responsible for their own clean up.
No meals may be prepared or served. No alcoholic beverages are permitted.
Cancellations can be done by logging into your Spaces account or by calling the library at 401-253-6948
---
Quiet Study East
Maximum Occupancy: 8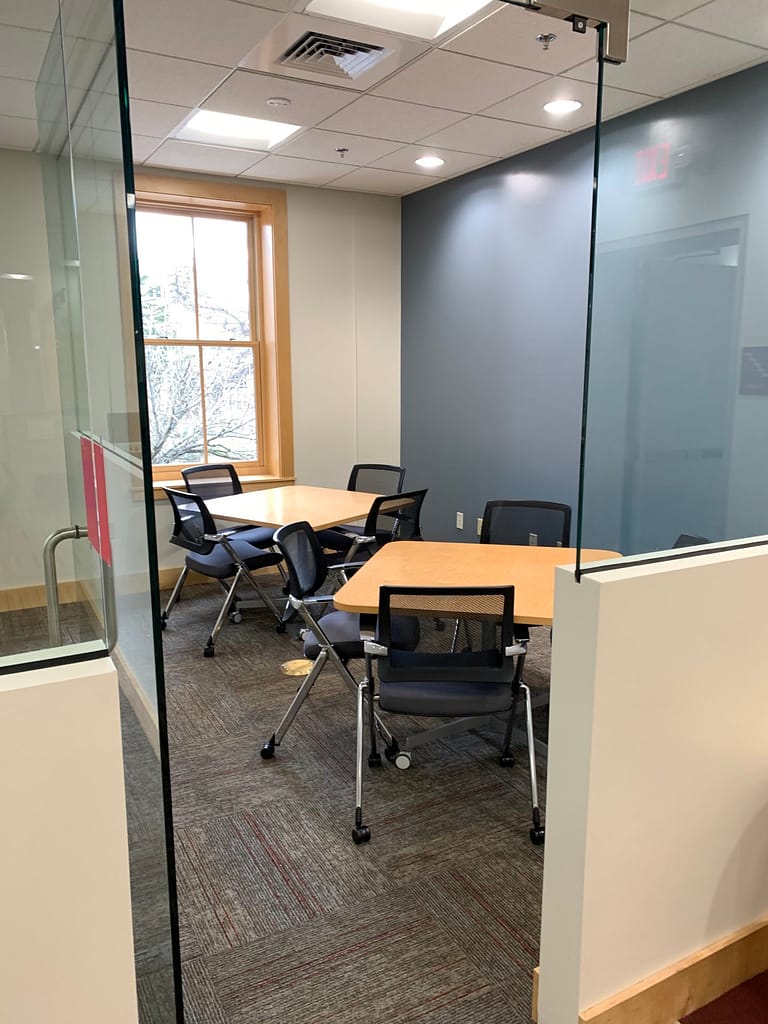 Quiet Study South
Maximum Occupancy: 6
Herreshoff Community Room
Maximum Capacity: 66*
*Limit is set by Bristol Fire Department. Two exits in room must be pointed out before all meetings.
Equipment Available: Projector (VGA connection or VGA -to-HDMI converter*) with drop down screen, DVD/VHS player, Windows 10 laptop, Microphones, Document camera, & Devices for the hearing impaired.
*Connections for Mac laptops only available if the computer has a Mini DisplayPort connection. Thunderbolt and USB-C converters not supported.
Upstairs Conference Room
Maximum Occupancy: 25
Equipment Available: LG smart TV with HDMI cable or wireless connectivity, Windows 10 laptop, & PowerPoint pointer/clicker
---
Main Floor Quiet Study
RESERVED FOR TECH APPOINTMENTS.
Questions? Ask Monica Gonzalez at mgonzalez@rogersfreelibrary.org or
401-253-6948 Ext. 323