Rogers Free Library has a wide variety of technology devices available to the public. Scroll down to see the full selection.
Devices are available to adult patrons with a valid library card.
Please handle all items with care.
If you break, damage, or lose a device, you will be charged a replacement fee for the cost of the device.
Items should be returned with all accessories.
If you have any questions, feel free to contact our tech coordinator, Monica Gonzalez, at mgonzalez@rogersfreelibrary.org or 401-253-6948 Ext. 323.
The library also offers drop-in tech help sessions, please see the Tech Tutors page for more details.
---
At the Circulation Desk
Arduino Starter Kit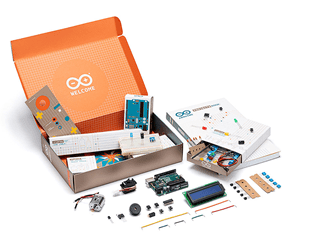 Learn electronics using the Arduino Starter Kit! No prior experience is required, as the kits introduce both coding and electronics through fun, engaging, and hands-on projects. You can use the starter kit to learn about current, voltage, and digital logic as well as the fundamentals of programming. There's an introduction to sensors and actuators and how to understand both digital and analog signals. Within all this, you'll be thinking critically and solving problems while learning circuits!
---
DVD Player*
Do you want to borrow a DVD from the library, but don't have a DVD player at home? Borrow one of ours! Bring it home and hook it up to your TV. You can play DVDs, small video files saved on USB sticks, and even MP3 & JPEG files from a DVD or USB!
*Does NOT play Blu-Rays.
---
Gorillapod
Borrow our "bendable" tripod! Wrap the legs around objects like tree branches or railings. Photograph or video-record yourself outdoors in a creative way using this unique tripod! Use a light camera or your smartphone!
---
iPad 7th Gen & Apple Pencil
Sick of using tablet keyboards? Do you fumble navigating the screen with your fingers? Wish you could draw on your tablet or write out your notes? Then check out our iPad and Apple Pencil. Please note, our Apple pencil is compatible with only this tablet, not our iPad Pro or iPad mini.
---
iPad Mini
The iPad can be used for a variety of activities including browsing the Internet, checking e-mail, recording photos/videos, checking your Facebook. You can also download items from our eZone catalog (e-books and audiobooks). Don't forget streaming video as well!
---
iPad Pro with Keyboard
The iPad Pro can be used for a variety of activities including browsing the Internet, checking e-mail, and recording photos/videos. You can also download digital books from the library by using the Libby app. Don't forget we stream movies as well! This iPad comes in a smart folio which includes a keyboard.
---
Makey Makey Invention Kit
Makey makes STEM Education fun! Start out easy by turning everyday objects, like bananas, into piano touchpads! Then make game controllers, musical instruments, and countless inventions. Connect the world around you to your computer! Setup takes just seconds. Just plug, clip, and play! No programing knowledge needed. No software to install. Works with Mac and Windows. 1000s of possibilities!
Recommended for ages 8 to infinity.
---
Mobile Wi-Fi Hotspot*
Borrow a WiFi Mobile Hotspot that can connect up to 8 devices to WiFi capable devices on T-Mobile's 4G LTE network. You can connect laptops, tablets, eReaders, Smartphones and more. This hotspot comes with a hard carrying case, a charger, and instructions.
*Lending Agreement must be filled/signed to check out this device.
---
Portable CD Player with Bluetooth
This lightweight device is a 3-in-1! It is a CD player, an FM radio, and a portable speaker with Bluetooth capability. Borrow music CDs or books on CD from our library to listen. Or download audiobooks from our Libby app and plug in/connect via Bluetooth to play the book aloud. There are endless possibilities!
*Requires 6 C Batteries for portability. Also comes with an AC cable to plug in at home.
---
Portable DVD Player
Play DVDs from the comfort of your home, or even the back of your truck! You can borrow a movie, TV show, or documentary DVD from the library and watch while plugged into your TV at home. To use while you travel simply swivel the built-in screen and use the straps to attach to the back of your driver or passenger seats. Use it with headphones or plug it into your car's audio system.
*Does not play Blu-Rays or 4K discs.
---
Vlogging Kit
Are you a budding entrepreneur, current business person owner or just enjoy video blogging a.k.a VLOGGING? Then you might be interested in borrowing our vlogging kit. You will need to have a smartphone in order to use this item. The kit comes with a grip, microphone, and LED light. Record yourself promoting your business or hobby. Then enjoy a semi-professional-looking video ready for your Youtube, social media, or website!
---
Zenpad 8.0 Tablet
The Zenpad can be used for a variety of activities including browsing the Internet, checking e-mail, recording photos/videos, checking your Facebook. You can also download items from our eZone catalog (e-books and audiobooks). Don't forget streaming video as well!
---
At the Children's Desk
Augmented Reality Globe
Orboot Earth world globe takes your child on a journey around the Planet. Scan the globe with the companion app to bring it alive and explore the world in different modes inside the app. Full of visual storytelling, music, animal facts and voice interactions, world quizzes, globe puzzles, and challenges. Explore 1000+ world facts across 6 categories – animals, cultures, monuments, inventions, maps and cuisines of the world. Learn about the food chain and balance the ecosystem of your national park, go on scavenger hunts around the world, and take part in fun quizzes for every category. Recommended for ages 4-10.
---
Botley 2.0
Code right out of the box with the next generation of our Toy of the Year winning coding robot! Botley 2.0 knows multiple ways to code right out of the boxcode by color, make Botley move in six directions, and even put on a light show! With 16 fun interactions, transform Botley into a train, police car, ghost, and more. Features expanded coding styles—code through music, lights, and movements. From science and technology to engineering and math, STEM learning help kids build critical thinking and other skills they need for success in school and beyond! Recommended for ages 5+.
---
Code-a-Pillar Twist
Code-a-pillar Twist has more than 1,000 possible coding combinations for kids to explore as they send their pal here, there, and everywhere! Preschoolers can twist the dials on the caterpillar's segments to create a sequence and send their pal along the programmed path with moves like forward, turn right, and turn left. They can even add exciting lights and sound effects! This friendly learning toy encourages your kiddo to experiment while they play, exercising important skills like problem solving, planning and sequencing, and more. Recommended for ages 3-6.
---
Dash Coding Robot
Dash is a real robot, responsive to the world, on the go and at the ready. Kids imagine the sidekick, pet, or pal they've always wanted and bring it to life with Dash and their own code. Packed with sensors and capabilities, kids can program Dash to move, dance, light up, make sounds, avoid obstacles, and even react to their voice. There are no limits to what your child can do with Dash!
Recommended for ages 6-11
---
Digital Microscope
This portable hand held microscope is a useful and fun magnification tool for kids, children, students, engineers, and others who want to magnify and explore micro things like circuit boards, coins, jewelry, skin, and insects. Compatible with Android Phones and tablets, Macs, Windows PCs, Linux, & Chrome OS. Not compatible with iOS. Built-in 8pcs LED lights, digital microscope's 2 adjusting knob can change the focus and brightness. With this usb microscope, you can record a micro world, capture images and record videos. Recommended for ages 5+.
---
Kano: Frozen II Coding Kit
Awaken the elements with a wave of your hand! The most award-winning STEM company – coding for kids has never been this simple, playful, and powerful. Go on an epic journey of discovery and learn to code along the way. Play with frozen powers – make fractals, build Olaf, conjure an ice Palace. Make your own stories – create rainbow snowflakes, fill the screen with mini Svens, throw snowballs. Play with Elsa, Anna, Olaf, Kristoff, Sven, as well as brand new Frozen 2 characters. Over 10 hours constant play There's no end to what you can make! Recommended for ages 6+.
---
Kano: Star Wars Coding Kit
Go from learner to master, choose the light side or the dark side. Learn to code, create, and play endless adventures, then share them with the Star Wars Kano World community. Play with force powers – Swing light sabers, force push Stormtroopers, pilot X-wings. Make your own stories – make BB-8 fly, fill the Falcon with Porgs, levitate baby Yoda. Hundreds of characters, weapons, starships, and planets. Make music – learn to code beats, melodies, sound effects, and music inspired by the films with this stem toy. Unlock costumes, lightsabers, and droids for your avatar. Recommended for ages 6+.
---
mBot Educational Robot Kit
Entry-level coding and robotics kit for Beginners. Designed for learning electronics, robotics, and programming in a simple and fun way, mBot is an excellent educational robot toy and it helps kids to learn programming step by step via interactive software and rich tutorials. Makeblock offers rich tutorials, available both on the online community and coding cards (included) for mBot while playing. Kids can enjoy remote control, play programming games, and program with mBot. It's easy for your kids to start coding with mBot! Recommended for ages 8+.
---
Sphero Mini Activity Kit
Learn to code with the Sphero Mini Activity Kit. Each Kit has everything you need to get rolling and playing. It comes with a clear-shelled Sphero Mini robotic ball, Construction Set, Activity Cards, Bowling Pins, and Cones to build mazes, design obstacle courses, construct towers, play croquet, and more. Drag and drive with Joystick mode, pull back and release with Slingshot mode or tip and rotate your mobile device with Tilt mode. Use Sphero Mini as a game controller for arcade-style games in the Sphero Play app. Recommended for ages 5+.
---