Welcome to the kid's center for additional programming.
Please see below the upcoming one-off events geared toward our smallest patrons!
---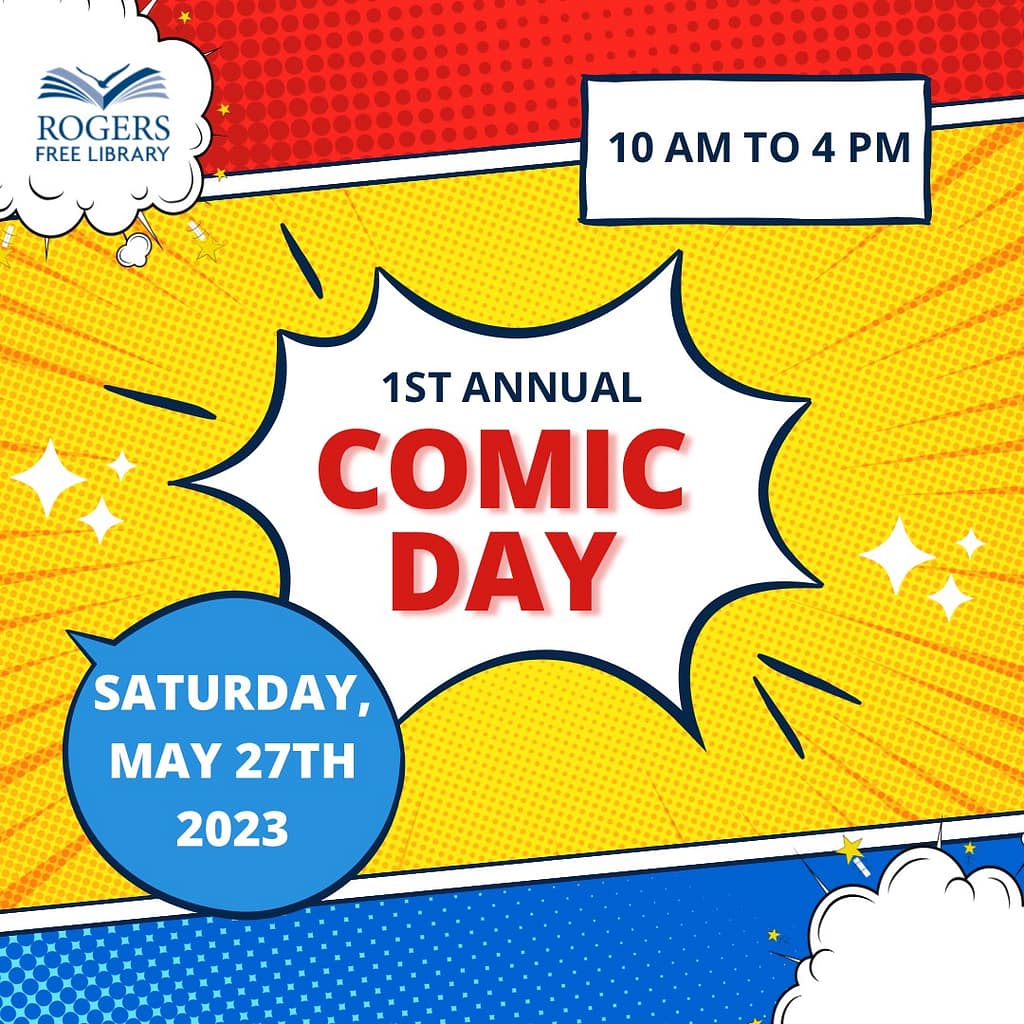 Rogers Free Library 1st Annual Comic Day!
Saturday, May 27th, 2023, 10 am – 4 pm
Join us for Rogers Free Library's 1st Annual Comic Day! There will be a on of different events during the day, as well as a cosplay contest, so make sure you come dressed as your favorite character for a chance to win a prize (and bragging rights!)
10 am to 11 am- Make your own superhero or villain mask, Children's Room Join Miss Sarah in the Children's Room to make your own Superhero (or Villain!) mask, as a part of RFL's Comic Day.  Registration is not required, but supplies are limited. Best for ages 3-7.
10:30 to 11 am- Trivia, Teen Space Join us for Comic Trivia during RFL's Comic Day. Bring your friends, form a team, test your comic knowledge, and win prizes! All ages are welcome.
11am-2pm- Comic Book Swap, Upstairs Conference Room Join us for a comic book swap during RFL's Comic Day! Bring any comics you want to trade!
2-3:30 pm- Comic Book Cover Workshop, Herreshoff Room Do you like comics? Have you ever wanted to design your own comic book cover? Now you can! Join artist Jerry Shippee for a fun filled workshop where you can learn how to draw your own comic book cover. Supplies will be provided. Registration is required. Please Register here. Best for ages 8-13.
---
Seed Bomb Workshop
Tuesday, May 30th, 5:30-6:30 pm, Teen Space
Explore what makes a healthy soil in this hands-on workshop. Learn about the soil nutrient cycle and the role compost has in rebuilding soils and encouraging plant growth. Then, make your own Seed Bombs by combining seeds, clay, and locally produced compost into small balls. Perfect for tossing anywhere that needs an extra burst of flowers!
All ages are welcome. Registration is required, please register here.
---
If you have any questions, please contact our Youth Services Librarian, Sarah Griffin at (401) 253-6948, option 3.
For recurring events, please see our calendar at rogersfreelibrary.org/calendar